There are several prominent signs of aging that can occur on the hands including wrinkles, thin "crepey" skin, and/or projecting veins. At Refine Medical Spa in Southlake, TX, we provide Radiesse hand rejuvenation injections to combat these signs of aging. Radiesse is a dermal filler that can work to restore volume and create smooth, even, and younger-looking skin. This FDA-approved injectable can help to reinstate the padding to the dorsal side of the hands. It can also help to stimulate the production of collagen in the skin to increase the longevity of treatment results. Without the downtime of surgery, this nonsurgical treatment provides rejuvenating results to help restore the appearance of your hands. To learn more about Radiesse for hand rejuvenation, contact our Southlake, TX office to schedule a consultation today.
Reviews
"I recently traveled from Phoenix AZ to Dallas just so Sam could do my lip injections. It was well worth the trip. I was injected yesterday and the swelling has already went down to the point I could go to work and no one has noticed a thing. Lip injections are tricky you cannot just go to anyone. I'm on the second day and my lips do not look duck like they look natural and full. Sam has also done my botox and fillers. I would never let anyone else touch my face. She's able to notice lines and suggest fillers in places that really make a difference in your appearance. Sam loves her clients and has a serious passion for what she does and it shows!"
- C.M. /
Yelp /
Aug 14, 2017
"All of the staff here was AMAZING. Tia did my botox and lips and I love my results! Nicole was so sweet and helpful and got me signed up to receive discount coupons. I've definitely found my medspa home!"
- M.B. /
Google /
Dec 14, 2019
"Happy with my previous services received from Refine medical spa 5/5 would return."
- C.D. /
Facebook /
Dec 12, 2019
"I have tried other medspas in the area but no one compares to REFINE medical spa. I have not had a service that I was less than satisfied with!! Their facials are amazing! Tia is phenomenal! Amber the manager will treat you like gold. They are top notch injectors and worth every penny spent!"
- M.T. /
Facebook /
Dec 11, 2019
"Not from the Dallas area. Happened to be in the city for a school event. I had been wanting to get my lips done for the longest time but was so apprehensive. After talking with the staff and the nurse who was going to do my procedure I was immediately at ease. They answered all my questions and made me feel more comfortable about the procedure. Everyone there was so nice and professional. I wish I lived there because I would definitely be in for more than just my lips. I do plan on making a trip down there to have my lips done again. After my results I wouldn't let anyone else touch my lips. I was more than satisfied and would definitely recommend. I give Refine Spa a 5 star rating hands down!"
- C.B. /
Facebook /
Dec 11, 2019
Previous
Next
Most ideal candidates for Radiesse hand rejuvenation are individuals who are experiencing wrinkling or thinning skin on the hands. Radiesse works to restore the lost volume in the skin to minimize the visibility of veins and tendons that can be prominent because of thin, crepey skin. Patients with known allergies to ingredients in Radiesse or with a bleeding disorder should not receive this hand rejuvenation procedure. Prior to your treatment, our team will consult with you about the benefits of Radiesse and help determine if it is the right procedure for your specific needs and concerns.
Before treatment, the area will be cleaned and a topical anesthetic may be applied if requested by the patient. The number of injections needed for the treatment area will be dependent on the severity of wrinkles and volume loss in the hands. Once the area has been marked, the injections will be administered and the entire procedure will typically last around 30 minutes. Following your treatment, you will be given specific aftercare instructions to help you receive optimal results.
Patients may experience some slight swelling, redness, or itchy skin after a Radiesse treatment session, but this typically subsides within a couple of days. There may also be some tightness in the hands that can sometimes make it difficult to complete certain tasks immediately following injections. If patients are experiencing prolonged or abnormal side effects, they should call our office to receive further instruction. Results from Radiesse can sometimes be seen immediately following treatment, but in some cases, they make take a few days or weeks to appear. These results can last anywhere between 9 – 12 months and patients can schedule follow-up treatments at Refine Medical Spa to help maintain their results.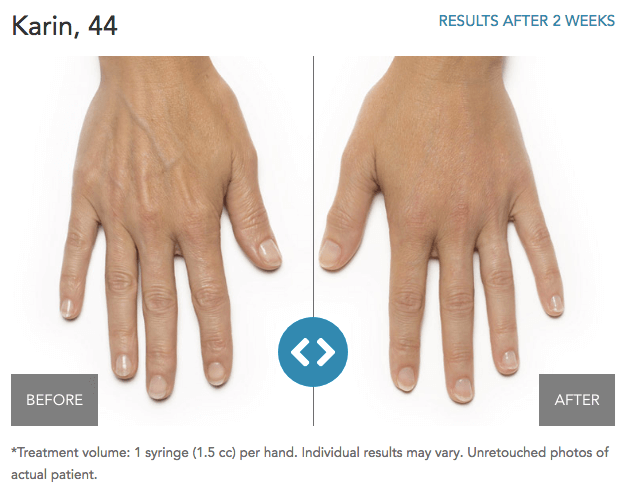 Rejuvenate and Revitalize
Your hands can be one of the first places to begin showing signs of aging. Thankfully, with Radiesse hand rejuvenation treatments, individuals can restore the lost volume in their hands to help them appear younger and smoother. Contact Refine Medical Spa in Southlake, TX if you are considering Radiesse for hand rejuvenation and schedule your consultation today.